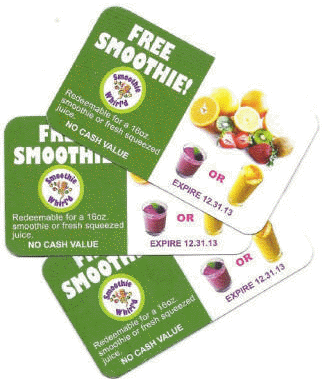 When you're happy, you're loyal. So why not take advantage of your loyalty by getting our Smoothie Whirl'd Customer Loyalty Card the next time you're in our store and start earning some FREE smoothies? After you've completed your 10th smoothie purchase, your next (or 11th) smoothie will be FREE!*
You'll earn one purchase-punch on your very first smoothie purchase!
Purchase 10 smoothies and get your 11th smoothie FREE! *
After your card is full, just ask for another one to start earning your next FREE smoothie!

* Your 11th FREE smoothie can be any small, 16 oz size smoothie only.
Smoothie Whirl'd Customer Loyalty Cards are not redeemable for cash.